The School of Management Science and Engineering was established in December 2006, which was formerly the fourth dedicated program, Capital Construction Economics, that the Central University of Finance and Economics (CUFE) founded in 1984. It is an integrated teaching and research program system based on the development of four main disciplines: Investment, Construction Management, Project Management, Real Estate Management and Management Science. Relying on CUFE's ideal background, the school has formed its own distinctive feature and advantages.
1. Departments
(1) Academic Departments
The School consists of 5 departments, namely Department of Construction Management, Department of Project Management, Department of Urban and Real Estate Management and Department of Management Science.
(2) Research Institutions
In addition to the general teaching facilities, the School has six research institutions, including the Investment Project Management Center, the Institute of Management Science, the Real Estate Research Institute, the Urban Economic Research Institute, the Private Equity Investment Research Institute and the Research Institute for Policy Effectiveness.
2. Faculty
The School attaches great importance to the formation and optimization of our faculties through intensive training and effective recruitment, focusing on building a team with strong teaching and research skills, as well as international perspectives. On the one hand, the potential of the current teachers is developed by encouraging them to participate in workshops, training, further education and academic conferences; on the other hand, attracting new talents is the key to strengthen the existing team. The School is taking into consideration of a variety of aspects to guide the training and recruitment, such as the structure of the team in terms of departments, programs, academic origins, age, education backgrounds, titles and research areas. A young and capable faculty has largely been built, with essential academic origins, teaching skills, research potential, international perspectives, creativity, and ability. By the end of 2016, the School of Management Science and Engineering has 55 staffs, among whom 45 are professional teachers, 10 are administration and assistant staffs. Among the professional teachers, there are 13 professors, 24 associate professors, 34 young and middle-aged teachers under the age of 45, more than 60% of whom have more than half a year of overseas experience as visiting scholars. One of them was selected by the "New Century Excellent Talents Program", organized by the Ministry of Education, while another 3 was selected by the "Beijing Outstanding Talent Supporting Program". In recent years, 9 talents with doctoral degree are recruited as full-time faculties, graduated from top-ranking universities such as the Northwestern University, the Royal Swedish Institute of Technology, and the National University of Singapore. From 1 January 2012 to 31 December 2016, our faculties have been working on 23 programs for the National Natural Science Foundation of China, 2 programs for the National Planning Office of Philosophy and Social Science, and 30 provincial and ministerial level projects, securing 27.19 million yuan of funding. They published more than 50 high-level papers in SSCI journals, SCI journals, and Category-A journals of the National Natural Science Foundation of Management Science, as well as 19 academic monographs, which attracted broad attention in the academic field and have a great economic and social impact.
3. Degree Program
The School has currently formed a multi-level and multi-channel teaching system, mainly consisting of full-time undergraduate programs, master's degree programs, doctoral degree programs, as well as various international cooperation programs. We have cultivated a group of high-level personnel in the area of economics and management with comprehensive skillset to serve our national and social development needs. By the end of 2016, there are 798 full-time students, 123 of whom are full-time post-graduate students (16 are on a doctoral degree path and 107 are on a master's degree path) and 675 undergraduates.
(1) Bachelor's Degree
The School offers 4 undergraduate programs in Investment, Management, Real Estate Management , and Construction Management.
(2) Master's Degree
The School offers 4 Master's programs in Management Science and Engineering, Investment, Engineering Project Management, Real Estate Economics and Management.
(3) Doctoral Degree
The School offers doctoral program for Investment.
4. International Cooperation
The School paid much attention to globalize our programs, and joint agreements on undergraduate and Master's programs have been signed with well-known universities abroad to foster cooperation in many forms. More than 35% of our undergrads have access to international exchange opportunities, relying on the agreements the School signed on international undergraduate exchange and joint training programs. If undergraduate exchange programs provided by the University are included, more than 50% of our students can participate in overseas programs. The international programs currently offered by the School include: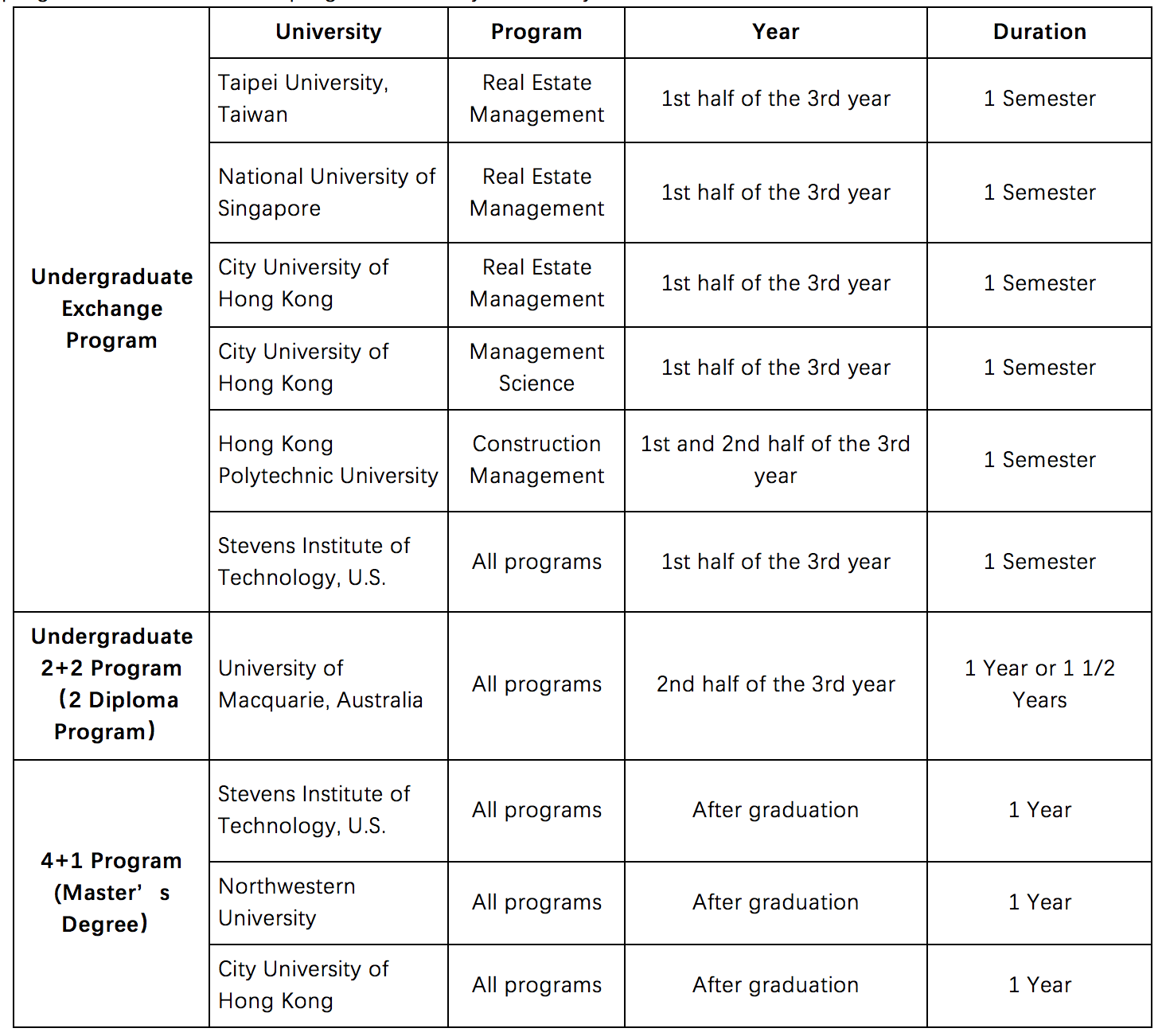 5. Employment Info
The personal development outlook of graduated students is optimistic. The quality of their employment is among the best in the whole university. In recent years, more than 50% of our graduates seek further education at home and abroad, more than 50% of whom choose to continue their education at renowned universities abroad (e.g. Columbia University, Northwestern University, University of Chicago, etc.). More than 30% of our undergrads are employed after graduation by financial institutions in China. From feedbacks from both former students and the society, our graduated students have high standard moral conscience, comprehensive skillsets, and practical expertise, which are recognized by major banks, securities, investment firms, real estate companies, consulting corporations, government agencies and other relevant parties. Our alumni also take part in the development of the School and education in a variety of ways, such as establishing the Hongji Industry Award Fund and the Ideal Investment Award Fund.
6. Student Activities
The School emphasizes all-round development of individuals. Our students are praised for outstanding performance in university sport competitions: 3 champions in 4 years for our men's basketball team; 5 runner-ups for women's basketball; champions in a variety of competitions for men's football. Their abilities are also recognized in academic competitions such as the U.S. Mathematical Contest in Modeling for College Students, the China National Mathematical Contest in Modeling, the National Business English Practice Contest, and the National Students' Real Estate Planning Contest, etc. Student activities are also diverse here: there are the Outlook Society, the Art Society, and the Choir Society, which are mainly established by our students; different activities, such as student-led debate contests, parliament-style English debate contests, and musical instruments contests, all contribute to the all-round development of our students.